12 Marzo 2022 Fonti: Flight Global, Leonardo Autore: Craig Hoyle Nota di Domenico Cambareri
Al Salone di Riyad, Leonardo si è decisa di insistere di più, dopo anni buttati al vento con l'irrilevante P72, sulla versione da ricognizione marittima e caccia antisom dell'ottimo C27 Spartan, unico aereo da trasporto di costruzione interamente nazionale, ma con componenti fondamentali, quali i propulsori, di costruzione straniera (che ne possono limitare fortemente le licenze di esportazione). Il C27 stazza ben 12 tonnellate in più rispetto al peso piuma ATR72 ma ben otto in meno rispetto all'eccellente Atlantic degli anni '60 (e parecchia autonomia in meno) e pesa … la metà del Poseidon. Da anni ormai la Marina Militare opera in modo continuativo in acque oceaniche ed è assolutamente priva di un velivolo da ricognizione marittima e attacco antisom e antisuperficie fornito di larga autonomia.
Ci siamo soffermati molte volte su queste problematiche di grande rilevanza politico-militare, industriale e delle esigenze operative, fino a mesi recenti. E' facile rintracciare questa documentazione attraverso 'search'. Essa presenta la panoramica internazionele in merito alle scelte dei nuovi aerei da pattugliamento e caccia antisom a largo raggio e alle politiche suicide dei Paesi europei, anche qui tornati a essere clienti e dipendenti dagli USA con il P-8 Poseidon. Dopo ben ventianni trascorsi per decidere sul successore degli Atlantic, degli Orion(USA), dei Nimrod. Assurdo. Davvero assurdo. Le diverse opzioni contaninerizzate del velivolo offrono pure quella antincendio e quella da ascolto elettronico C-27's C3ISR – D. Cambareri
Leonardo is making good progress with the development of additional multi-mission capabilities for its C-27J Next Generation tactical transport, with maritime and firefighting offerings its newest focus areas.
The Italian company flew one of its C-27J development aircraft to appear in the static display at Saudi Arabia's inaugural World Defense Show in Riyadh, and exhibited a scale-model of a dedicated anti-submarine warfare (ASW)/anti-surface warfare variant on its stand.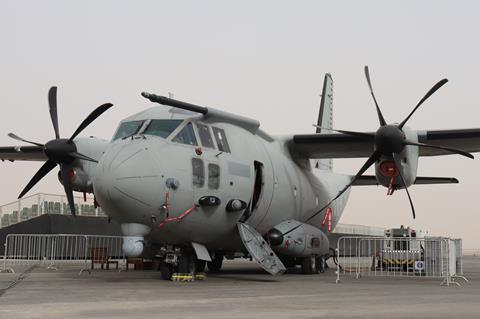 Source: Craig Hoyle/FlightGlobal
Italian airframer flew Spartan development aircraft to World Defense Show in Riyadh
Currently operational in 15 nations in its core transport role and as a coastguard asset, the C-27J Spartan has been in operation since a first delivery to lead user the Italian air force in October 2006.
Major changes incorporated for the Spartan's Next Generation model include a replacement glass cockpit with five multifunction displays, plus new avionics equipment to ensure its compliance with the latest civil regulations covering navigation and communications.
A strengthened wing has also been fitted, enabling the installation of winglets boosting performance in hot and high operating conditions, and under-wing pylons. The aircraft's zero fuel weight also has been increased, giving it a greater maximum payload potential, at 11,300kg (24,900lb).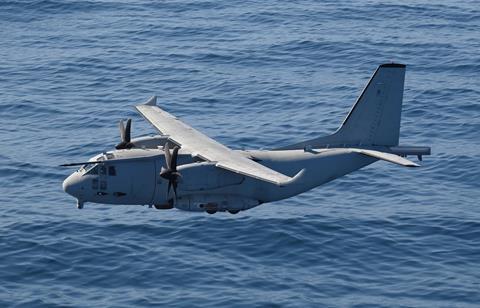 Source: Leonardo
Maritime updates include adding boom-mounted magnetic anomaly detector
"The transport aircraft is a big market, but it is not the only market where we have to go. We have to try to increase our market opportunities using the multi-flexibility of this aircraft," Christian Amendolagine, Leonardo's senior vice-president, military airlifter and special mission aircraft, said at the show on 8 March.
"Our multi-mission vision is not a platform that is only doing that specific mission: it is a Spartan that can do multiple missions through the capability to install a suite that is easy to load and unload." This approach involves the use of roll-on/roll-off pallet-based mission systems, using the C-27's C3ISR intelligence, surveillance and reconnaissance version as a basis.
"All of the integration of the [Next Generation] avionics is made by Leonardo. This is a significant step forward," says Amendolagine, who notes that installing customer-unique avionics or communications systems could previously prove "an obstacle" during international sales.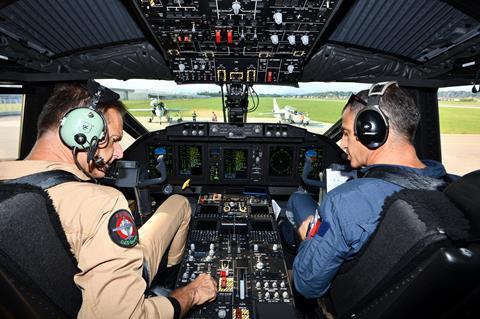 Source: Leonardo
Leonardo integrates all new avionics equipment on its C-27J Next Generation
The company is promoting the C-27J's suitability for maritime patrol and ASW duties, touting the twin-turboprop's operating endurance of 11-12h.
Its Next Generation ASW adaptation carries up to six lightweight torpedoes or anti-ship missiles under the wing – or four of the weapons, plus two external fuel tanks, for a maximum total of 3,400kg. The platform will be equipped with an electro-optical/infrared sensor and Leonardo UK's Osprey or Seaspray 7500E V2 active electronically scanned array maritime search radar. Other mission equipment is to include a magnetic anomaly detector mounted in a tail boom, sonobuoy launchers and an acoustic system.
Using Leonardo's airborne tactical observation surveillance mission system, the aircraft could be equipped with up to six onboard operator stations. The model is being promoted to potential customers, including within NATO, Amendolagine says.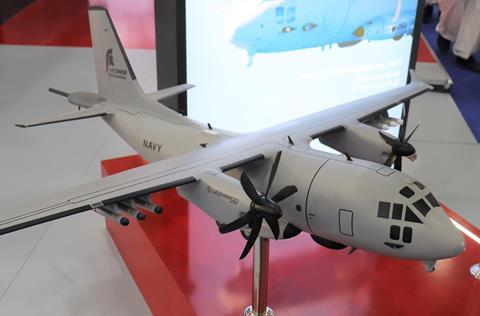 Source: Craig Hoyle/FlightGlobal
Next Generation ASW variant can carry six torpedoes or anti-ship missiles
For coastguard, maritime patrol and ISR applications, the aircraft can also be configured with two observer positions featuring large panoramic windows.
In the dedicated firefighting role, the airlifter will have a tank installed in its cargo hold carrying up to 8,000l of water or 7,600l of retardant, with a nozzle protruding from the side of the fuselage. Amendolagine says this will prevent the released load from causing corrosion to the airframe.
"Both the Romanian and Peruvian air forces are using the C-27J in firefighting missions with Caylym Guardian containers, while a more capable firefighting tank solution is in development," Leonardo says. "It involves the integration of the MAFFS 2 system for the pressure release of water/retardant."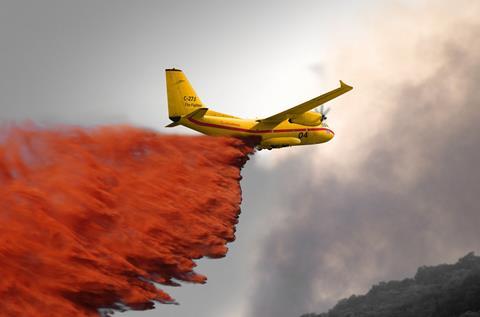 Source: Leonardo
Dedicated firefighter will be able to carry 7,600l of retardant in MAFFS 2 tank
Leonardo says the aircraft will release its firefighting load at 120-135kt (222-250km/h).
"We have entered dialogue with many companies operating firefighting assets, and see it as a good opportunity," Amendolagine says. He notes that amphibious waterbombers – or "scoopers" – are only able to operate "in the summer" and during daylight hours, unlike a land-based solution such as the C-27J. In tests, Leonardo has demonstrated the ability to land and prepare for another firefighting mission within 20min.
"We are aggressively developing this product," he says. "Our goal is to enter into the market with this solution next year in Europe." He adds: "We have to demonstrate that the robustness of the system is able to mitigate the risk of operating at night."
Leonardo has to date supplied C-27Js to Australia, Bulgaria, Chad, Greece, Italy, Kenya, Lithuania, Mexico, Morocco, Peru, Romania, Slovakia, the US Army and US Coast Guard, plus Zambia. An undisclosed 15th nation recently became the first to field the Next Generation version of the airlifter, which Cirium fleets data shows to be Turkmenistan, with two examples.
Source: Leonardo
Bulgaria is among current users of the C-27J tactical transport
"A recent agreement between Slovenia and Italy added a new significant customer to the client list," it adds. The eastern European nation will receive one aircraft, with Amendolagine saying delivery is due this year.
He says there are currently 87 Spartans in operational service. "Our vision is to replace [the avionics on] the entire operational fleet: that is something that we are discussing right now with all the customers."
The company has already delivered a roll-on VIP fit – which features six business- and nine economy-class seats, plus a service module – to "most of our customers", he says.
Leonardo also offers a gunship model, and has previously conducted ground-based and airborne firing trials with a cabin-mounted GAU-23 30mm cannon.
"We are using our experience which we have accumulated in the last 20 years: flexibility and multi-mission – it's a good selling point in the market," Amendolagine says.